THE FLAT GOOD CATALAN
THE PAELLA
Dish of spanish origin based on cool fish provenance of the region,accompanied rice.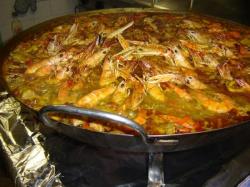 SNAILS TO THE CATALAN
Dish tipiquement Catalan based on snails grey baby,tomtoes,poivron.....
Principe of meals:
The menu consists of,drink and wine,entrance,main dish,cheeses,dessert,coffee or infusion.
Meals are served in the evening.Free to every person to join or not at the family table.